YOU ARE CORDIALLY INVITED TO ATTEND THE GRAND OPENING OF THE MONUMENT OF STORIES: 
"COLORED BY WAR"

….
A Multi-Dimensional Monument of stories build up of portraits, diaries and film: an exhibit of Monica van Rijn
Thursday, April 14, 2016 , 16:00 – 19:00 hours
 The exhibit will be opened by Gerlof Leistra, journalist for Elseviers weekly magazine, who is both historian and writer. Singers Robin Halvers en Anne-Liline de Dreu will perform their own song about freedom commissioned by the Nederlandse Pop Academy and inspired by the Colored by War project.
Place:

'De Buitenhof' Theaterzaal Vermaeck,
Nieuw Herlaer 2, 1083 BD Amsterdam Buitenveldert
FREE ENTRANCE, YOU CAN ENTER WHENEVER YOU LIKE, NO RESERVATIONS NECESSARY.  THE EXHIBIT RUNS FROM APRIL 14-MAY 26, 2016
SPEECH "MY MOTHER WAS STRONG" BY MONICA VAN RIJN:
Wednesday, May 4, 2016 , 19.30-20.10 hours in collaboration with National Committee 4 &5 Mei
during the annual WWII Memorial gathering and two minutes of silence 
at the war monument at the southern entrance of

Vondelpark close to Amstelveenseweg

; afterwards everyone is welcome to attend the exhibit and see the Colored by War films at the 'De Buitenhof' Theaterzaal Vermaeck, Nieuw Herlaer 2, 1083 BD Amsterdam Buitenveldert
AEVENT CALENDAR IN MAY DURING THE COURSE OF THE EXHIBIT IN "DE BUITENHOF":
For schools: tuesday May 11: by appointment
For caregivers: wednesday, May 18 from 15-17 hours
For residents of 'De Buitenhof and walk-in writing afternoon:  to be announced.
2015:
An overview of Monica van Rijn's paintings accompanied the preview of the interactive, visual monument of stories:

The Making of

 'Colored By War' in the Northern area of Amsterdam from December 10, 2015 through January 15, 2016.
See film synopsis of the opening here
~*****~
On December 13, 2015, Sunday, 14.30-17.30 hours, special guest Hella de Jonge showed her documentary "Verlies niet de Moed".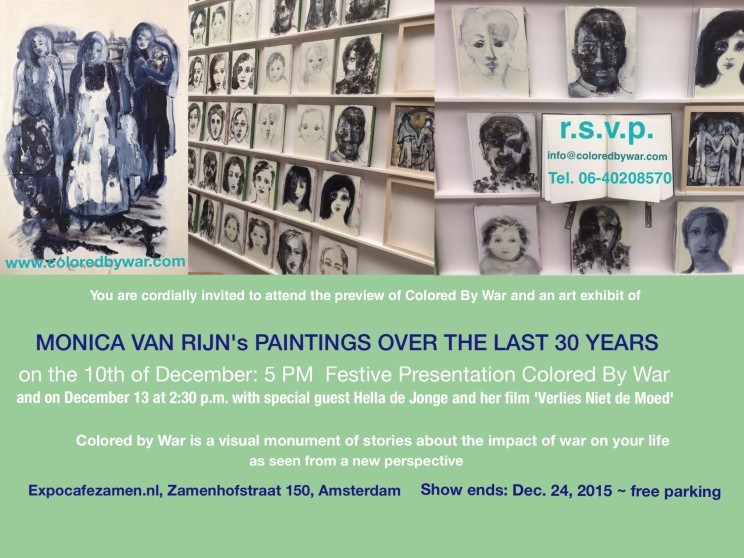 An impression of Monica van Rijn's work: